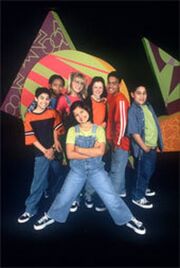 ZOOM's 2nd season aired from January 4, 2000 until April 22, 2000.
This is the final season to have the text reading "www.pbs.org", which had been in use since Season 1.
Zoe and Alisa both left the show after this season. Claudio and Caroline were introduced as new ZOOMers in this season. Claudio also left after this season, but Caroline stayed until she left after Season 5.
This was the only season to have four fundings. The first didn't include The Arthur Vining Davis Foundation logo, the 2nd one was almost the same, but with some different footage, the 3rd one did include it and the 4th went for 15 seconds.
This is the first season to have the 1999 PBS Kids Logo with Dot and Dash. First introduced in the funding intro but will be put to permanent use starting in Season 3.
This is the first season to have the ZOOMers saying "Thanks" after the fundings were finished.
First season to have a rewritten version of the show's intro for the 2nd line. The rewritten version consisted of "you call the tune", and "we're starting soon". That will stay until the fifth season.
Community content is available under
CC-BY-SA
unless otherwise noted.