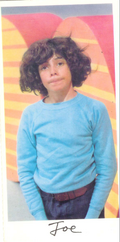 Dr. Joseph Aaron Strand was born November 8, 1958 in Boston, Massachusetts.
Joe was a member of the cast of Zoom during its inaugural season in 1972. He has the distinction of being the first cast member to introduce himself, as his was the initial introduction on the first season.
After Zoom, Joe attended the University of Cincinnati College of Medicine[1] and is now a practicing psychiatrist in Brockton, Massachusetts. He is an Instructor of Psychiatry at Harvard Medical School, an Assistant Child Psychiatrist on the medical staff of Massachusetts General Hospital, and the Medical Director of CASTLE (Clean and Sober Teens Living Empowered)[2].
Dr. Shrand is also an avid fan of Sherlock Holmes. He is a member of the Speckled Band of Boston[3] and received an award for the best academic paper on a Sherlock Holmes subject in the 1993 Sherlock Holmes Bowl[4].
References